LOW COST PEST CONTROL...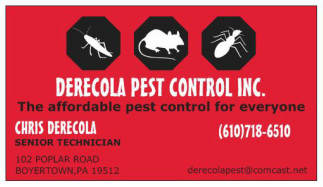 Derecola Pest Control Family Owned and Operated Fully Inured. We are Serving Berks, Chester and Montgomery Counties. We use the most Advanced Methods and Materials Offered today in Pest Control. We are able to Solve all Common Problems such as *BEES* ANTS* FLEAS* SPIDERS* BED BUGS* STINK BUGS* ROACHES* WATER BUGS* TERMITES* RODENTS* GROUNDHOGS * ETC.



-Low cost

-Licensed and Insured
-No charge Call backs
-5% Senior Discount
-Free Termite Inspection Warranty on every service
-Commercial or Residential
Monthly Specials -NO CONTRACTS
-Free Estimates
-Customized Service Plans

CALL (610) 718-6510
TO SCHEDULE APPOINTMENT



---
Contact Now
Brought to you by
New Power Spray Service...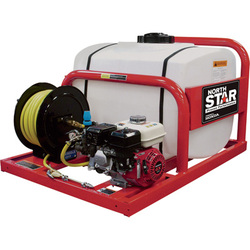 Derecola Pest Control is now offering a Power spray service. This service takes advantage of a 50 gallon tank and gas motor to give you property a broad band spray or treat the eaves and overhangs of your home or commercial property. Some of the services that will be offered are Flea and tick treatment,stinging insect treatment,Stink bug treatment,Termite services.Call today to set up your Power Spray..(610)718-6510
derecolapest.com
---

Review by: Jean R. Sep 2012

Work Description: Our new construction home had too high humidity level which attracted infestation of moisture loving, household pests.

Comments: Chris was quick in scheduling treatment. He was sensitive to my concerns about chemicals. He educated me on additional measures to take (humidifiers, monitoring for leaks everywhere/anywhere–and we discovered one, talked about benefits of running A/C to control home's humidity as well, suggested cleaning/eliminating construction debris,cardboard boxes, etc. under bathroom cabinets as cleanliness & less clutter is also key to pest control… ) Chris called several times to check in with me. He returned to my home to take a look and see how things were going with the insect monitors he placed. Professional, sincere, affordable, on-time, excellent follow-up, and results… I highly recommend Derecola Pest Control.